Beauty in Science and Spirit,
hardcover edition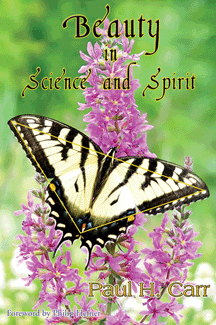 The awesome beauty of nature lured ancient people to explain the world with myths, illumined by art. The mathematical beauty of modern science emerged from the mystical beauty of these spiritual stories. Today, Einstein's language of mathematics frames the evolution of the beautiful universe.
Charles Darwin explained the evolution of "forms most beautiful" by variations and the natural selection law in 1859. Yet many, including the intelligent design community, still doubt Darwin. How could a process having randomness lead to life and even beauty? Dr. Carr shows how randomness coupled with law is creative, as evidenced by mathematician Benoit Mandelbrot's recent discovery that fractal geometry permeates nature's beauty, from snowflakes to the branching of plants and lungs. Both fractals and evolution are characterized by the interplay of chance and necessity.
This interplay can be extended to science and spirit. The scientific account of the origin of the universe complements that of spiritual stories. Each can be beautiful in its own way, because spiritual and scientific stories have different purposes. Spiritual stories answer "why" and give guidance and motivation for living now and in eternity. Scientific theories explain "how," give a coherent rational account of measurements, and make predications. Integration of the "how" with the "why" can lead to a beautiful new story that transcends national and cultural differences. Nature's intrinsic beauty can motivate its conservation.
"Whether a reader is interested in beauty, in nature, in science, in technology, in religion/spirituality/theology, or in all of them, Paul Carr's exquisitely illustrated volume is bound to provide intellectual enrichment and aesthetic enjoyment."

—K. Helmut Reich, Ph. D., Professor, Rutherford University & Senior Research Fellow Emeritus, University of Fribourg, Switzerland.

"Beauty in Science and Spirit gives insightful direction and perspectives for updating traditional concepts with contemporary knowledge. A feeling of beauty occurs when several different perspectives fall together coherently."

—Paul Ulbrich, D. O. Fellow, American College of Emergency Physicians, Retired, Davis, CA.
Click here to go to Amazon.com to buy this book on-line
Or click on the "Buy Now" button to purchase this item through PayPal
$29.00 / hardcover / 194 pages, 37 illustrations including 16 color plates/
Beech River Books / 2007 / ISBN 978-0-9793778-5-3 / 6 in. by 9 in.
Paul Carr, Ph. D., Physics, led an AF Research Laboratory group. His eighty scientific papers and ten patents have resulted in new components for radar, TV, and cell phones. He received a grant for his philosophy course on science and religion at UMass Lowell. His web page is www.MirrorOfNature.org.