Autobiography of A California Entrepreneur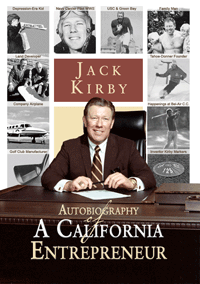 "I've been rich, and I've been poor, and rich is better!"
Jack Kirby has worn many hats in his sixty-year career. A creative entrepreneur, Kirby took risks and experienced successes and failures in many different types of ventures. In this book, he tells his life story, as well as his hard-won lessons, which are instructive for any person wanting to become his or her own boss.
A family man of great heart, warmth and humor, Kirby is a member of Tom Brockaw's "greatest generation." Kirby grew up with California and helped it grow as well. Looking back on his long, amazing career—from the Depression of the Thirties to the 21st Century—Jack Kirby's story will interest anyone in business, and those just starting out in their careers.
Click here to go to Amazon.com to buy this book on-line
$28.00 / paperback / 420 pages / Beech River Books / 2006 / ISBN 0-9776514-0-1.
Jack Kirby has had many notable achievements and ventures. He was a star football athlete with the University of Southern California Trojans in the Forties and played professionally with the Redskins and Packers. He served in World War II as a pilot in a torpedo plane squadron for the Navy. He had a long career in sales and marketing, particularly in land development in California and was one of the designers and creators of Tahoe Donner and Alta Sierra. He was also an avid golfer and developed Shamrock golf clubs and Kirby Markers. He currently resides in Santa Barbara, California.